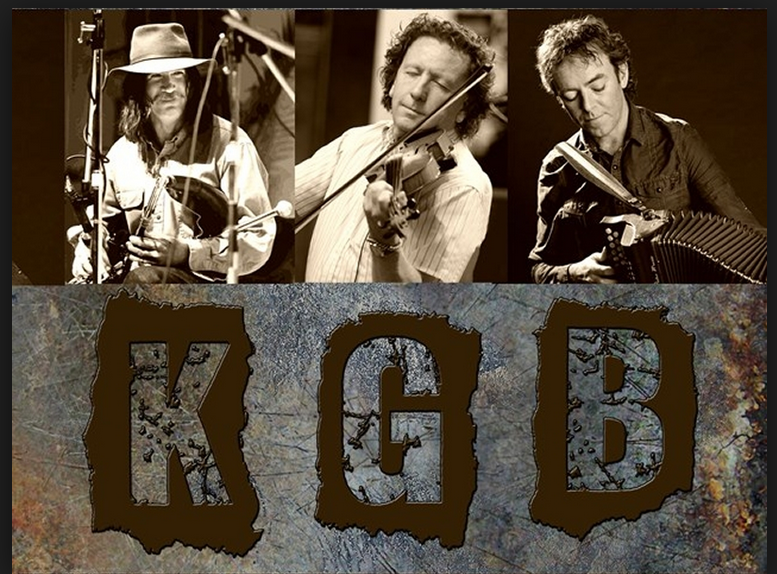 No, not the Russian state security service in action again, but a trio comprising, Paddy Keenan on uillean pipes, Frankie Gavin on fiddle and Dermot Byrne on accordion. Find out more about Paddy Keenan here: https://www.paddykeenan.com and about  Dermot Byrne here http://dermotandflo.com
Over the years these accomplished musicians have played together in various combinations. Most recently Frankie and Paddy played  with Junji Shirota on the recording Eire Japan, and Frankie and Dermot  played with others at the 2017 Patrick O'Keeffe Festival. Their first public outing as a trio was at Celtic Connections 2018 in Glasgow.
This is how the Celtic music community radio station Oak and Thorn reviewed the performance:
The main act was billed as KGB – Keenan, Gavin, and Byrne.  Old friends Paddy Keenan and Frankie Gavin had a wonderful night poking fun at each other, with Paddy using his pipes to make chicken squawks and play "Happy Birthday" to himself.  Always a comedian, Frankie raced through jokes almost as fast as he can fiddle.  Dermot Byrne held down his end of the stage with a patient smile and incredible accordion virtuosity, whenever Paddy and Frankie were ready to play some tunes.  This gig had so many highlights, from the running gag of Paddy's first job as an egg-sorter (prompted by the chicken squawks), to old favorite tunes played by master musicians, to Dermot's solo, and an unscheduled departure from traditional tunes to an old rock standard.  Old friends playing beautiful music made for a grand evening.
And this from Celtic Music Radio
Next up, KGB. (Keenan, Gavin, Byrne) With such illustrious names from the traditional music pantheon, there is an air of expectation in the room, one which Gavin breaks immediately by telling a few jokes. This is his way of settling us in, 'relax, we've got this'. The trio then treats us to a couple of high octane sets, waking the audience up to the fact that they're in the presence of some serious musicians, both technically and spiritually. The banter continues to attempt to mask the sheer brilliance on show here. Each of the trio has their own 'spot' where they play tunes of their choice, Gavin's choice also showcases the prowess of his fellow musicians, he just can't help be a leader. Byrne's solo spot basically show us that he's in that company for a reason, blistering ability and brought with a bit of a smile to boot, showing us that we need to watch the quiet ones. Keenan takes the route of playing a slow air, shying away from technical pyrotechnics this time, having treated us to quite a lot of that already.
Keenan announces that its their first gig and that they put the set together in the back room, I believe him to a point. There's always some discussion about tunes before the sets, this gives the feeling of being at a session rather than a concert. It is perhaps Celtic Connections greatest achievement to take the spirit and camaraderie of the session and place it on the big stage. At times it also feels like we're at a classical recital as the trio treat us to some of the less foot stomping parts of their repertoire, bringing welcome light and shade to the proceedings. The gig ends with blistering set of reels, there's joy in the room, a distinct feeling of it all feeling 'right'. This trio were not going to be allowed to leave without an encore however. After being persuaded to come back on, Keenan hilariously leaves the stage again, refusing to take part, only to return to some laughter to give the audience a cracking second encore to make up for his antics. A casual glance at the clock tell me it hasn't just been ten minutes, KGB managed the holy grail of live performance, entertaining us for nearly 90 minutes and it felt like ten. More please.  (Ashley Scott, CMR)
The trio have a number of gigs coming up in the next few months. Check on Forthcoming gigs page.